What radical Muslims want: to DOMINATE the world by Islamic CALIPHATE (Khilafah)

What radical Muslims want: to DOMINATE the world by Islamic CALIPHATE (Khilafah)

The intention, endlessly repeated, is the establishment of a primitive, messianic caliphate -- redeeming Islam and dominating the world. ...
http://www.townhall.com/columnists/CharlesKrauthammer/2004/03/19/spain_is_just_spain


Islam and Nirvana of Global Caliphate http://www.iranian.ws/iran_news/publish/article_19551.shtml


Nazareth Muslims: Islam will dominate world (December 2006) http://wnd.com/news/article.asp?ARTICLE_ID=53574


BBC NEWS The Editors
Looking at the number of radical islamic voices from muslims criticising the ... last frame esp ironic, their Caliphat/Khilafah engulfing the whole world ... http://www.bbc.co.uk/blogs/theeditors/2006/11/investigating_hizb_uttahrir.html


Kyrgyz group aims for Caliphate , The London bombings have prompted the UK government to outlaw Hizb ut Tahrir - a radical Islamic group that wants to replace secular governments with an Islamic Caliphate, or super-state run according to Sharia Law. (2005) http://news.bbc.co.uk/2/hi/asia-pacific/4131762.stm


Sunni insurgents or Al Qaeda trying to establish a caliphate (December 2006) http://www.msnbc.msn.com/id/16399081/site/newsweek/


Islamic Economics and Shariah Law: A Plan for World Domination (Dec 20, 2006) http://globalpolitician.com/articledes.asp?ID=2399&cid=2&sid=2


Can you imagine an Islamic caliphate conquering and colonizing the West... http://victordavishanson.pajamasmedia.com/2006/09/26/we_are_very_lucky_to_live_in_t.php


against the Dark-Age nihilism of the world of the caliphate and Sharia law http://article.nationalreview.com/?q=ZDIxNzE0NWFmNDg0MTYwOWM1MjE1NzRhNjY0YzY5ZWU


White House Letter: "Iraq would serve as the base of a new Islamic caliphate to extend throughout the Middle East, and which would threaten ... http://www.iht.com/articles/2005/12/11/news/letter.php


JTW News - Rumsfeld: Violent Extremists Aim to Establish a CaliphateUS Secretary of Defence Donald Rumsfeld said in his last days in office that terrorism is a weapon of choice for violent extremists whose ultimate goal is to dominate the Muslim world."They want to destabilize moderate mainstream Muslim regimes and establish a Caliphate, and have a handful of clerics determine what everyone in that country can do, and then spread that across the globe from Indonesia to the Middle East through North Africa and Southern Europe." http://www.turkishweekly.net/news.php?id=41598


What do they want? Caliphate! When do they want it? Now! Caliphate! When do they want it? Now! Daniel Pipes in "What the Terrorists Want" in FrontPage (thanks to EPG) says what I have been saying again and again ...
http://www.jihadwatch.org/archives/007370.php


"Bush: Militants Seek to Intimidate World," "The militants believe that controlling one country will rally the Muslim masses, enabling them to overthrow all moderate governments in the region and establish a radical Islamic empire that spans from Spain to Indonesia"
http://news.yahoo.com/s/ap/20051006/ap_on_go_pr_wh/bush_iraq



The Muslim Brotherhood "Project" and "Establish the global caliphate!" Islamist rhetoric is that it ... creation of an Islamic state as a keystone in the plan for global Islamic domination...
http://www.frontpagemag.com/Articles/Printable.asp?ID=22415


Proudly displaying their goal: "Islam will dominate the world".
http://www.al-ghoul.com/images/dominate_world.jpg



Islamist protest in N.Y. – 'Mushroom cloud on way' Put WND headlines on your site. Make WND your Home Page ... members noted signs including "Islam will Dominate" and a picture with an Islamic flag flying ... http://wnd.com/news/article.asp?ARTICLE_ID=49865


THE Voice of Osama bin Laden was heard across the world again yesterday with ... signs including "Islam will Dominate" and a picture with an Islamic flag ... http://www.blackwaterusa.com/btw2006/archive/042406btw.html


What do they want? Caliphate! When do they want it? Now! Caliphate! When do they want it? Now! Daniel Pipes in "What the Terrorists Want" in FrontPage (thanks to EPG) says what I have been saying again and again ...
http://www.jihadwatch.org/archives/007370.php


Beware the Developing 'Islamic Reich'
http://www.israelnationalnews.com/news.php3?id=117762

Hizb ut Tahrir: 'Islam is Coming Back' - Global News on the World ...- Hizb ut Tahrir also has a presence on university campuses, ... The call to re-establish the caliphate, the single Islamic state http://www.world-crisis.com/news/1061_0_1_0_M/



Islamists Down Under by Lowell Ponte http://www.frontpagemag.com/Articles/ReadArticle.asp?ID=22171


http://jihadidujour.blogspot.com/2006/11/pelosis-war-blunder.html Translation: Islamic fascists led by al Qaeda are fighting a global jihad to establish a Muslim caliphate from Egypt to Iraq. They will attack anyone


http://gabriellecusumano.townhall.com/page4 in the face of Islamic terror aimed at establishing a global caliphate


http://www.jihadwatch.org/archives/2005_12.php it wants to establish an Islamic caliphate in the Central Asian countries


http://mypetjawa.mu.nu/archives/152616.php US General: Goal of Enemy Restoration of Global Islamic Caliphate.


The Middle East: Nobody Gets It, Jihadists have only one goal – to establish the world-wide caliphate. To institute Sharia law on a global scale. To convert or kill any non-muslim
http://www.postchronicle.com/commentary/article_21254233.shtml


Fatah leaders meet to discuss Hamas Jerusalem Post, Meanwhile, a radical Islamic group called Hizb al-Tahrir (Liberation Party) is planning to declare the birth of an Islamic caliphate in the Gaza Strip
http://www.jpost.com/servlet/Satellite?cid=1154525933042&pagename=JPost%2FJPArticle%2FShowFull


StandWithUs.com - AL QAEDA CHIEFS REVEAL WORLD DOMINATION DESIGNAL QAEDA CHIEFS REVEAL WORLD DOMINATION DESIGN By Allan Hall ... Phase five will be the point at which an Islamic state, or caliphate, can be declared ...
http://www.standwithus.com/news_post.asp?NPI=435


Iran Focus-Iran's President: Islam to dominate world in "near future"
http://www.iranfocus.com/modules/news/article.php?storyid=6032
Islamic thrust for global supremacy: Just say NO!
http://www.renewamerica.us/columns/fisher/051012
http://english.pravda.ru/main/2002/11/14/39531.html
Vladimir Putin declared in Brussels on Monday that radical Islamic groups are
planning to systematically annihilate non-Moslems and to create a worldwide
Caliphate.
Islam: What the West Needs To Know - About the ProjectAn examination of
Islam, violence, and the fate of the non-Muslim world. ... divinely enjoined to
dominate the world, analogous in many ways to Communism.
http://www.whatthewestneedstoknow.com/about_the_project.asp
Townhall.com::The war we are fighting needs a more accurate name...
imperialist Islam aims to dominate the whole world
http://www.townhall.com/columnists/DennisPrager/2006/05/09/the_war_we_are_fighting_needs_a_more_accurate_name
http://www.kurdmedia.com/articles.asp?id=12957
The Islamization of America: From Mecca to Medina and conquering Americans from
within
The Silent Muslim Majority IS the problem! Wahhabi Islamist groups in the
West are dreaming of a day when Sharia Islamic laws that call for stoning women
come to America and dominate the whole world. ...
http://www.frontpagemag.com/Articles/ReadArticle.asp?ID=16554


Islam wants to Dominate the World!



---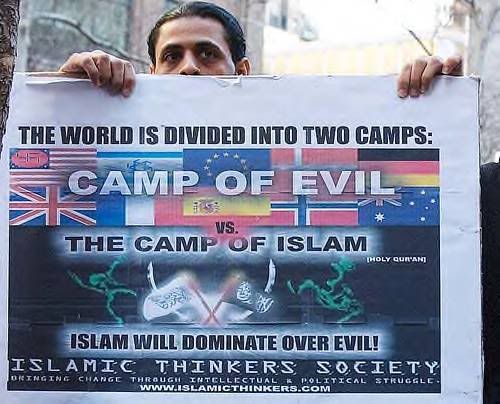 The world is divided into two camps
(flags of US with swastika in lieu of stars, Israel with star made of swastikas, EU, Denmark, Germany, UK, France, Spain, Norway, Australia)

vs.

The Camp of Islam
(map of the world, with green borders around all continents)
ISLAM WILL DOMINATE OVER EVIL!


Islamist protest in N.Y. – 'Mushroom cloud on way'
http://www.wnd.com/news/article.asp?ARTICLE_ID=49865

Technorati -
Freedom
911
Al Qaida
Al Qaeda
Al Qaida
Bin Laden
Al Zarqawi
Anti west
Anti American
Intolerance
Terrorist oganization
Hamas
'palestinian' propaganda
Al Aqsa
Alaqsa
'palestinian' terrorism
Suicide bombing
Saddam Hussein
Torture chambers
WTC bombing
Homicide bombing
London bombing
Bali bombing
Beheading
Abu Sayyaf
Honor killing
Muslim clerics
Mullahs
Islamic Hitler
Iran Regime
Ahmedinejad
Iran nukes
Human rights
War on terror
jihad
Sudan genocide
Islamic slavery
Arab slaver masters
Genocide bombing
Anti Israel bias
Arab racism
Anti Israel racism
Islamofacsism
Conflict
Israel
Islamic Jihad
Hamas
"palestinian" Animalism
"palestinian" cruelty
"palestinian" Savagery
"Palestine"
"Palestinians"
Israelis
Jewish refugees
Victims of terror
Moderates
Islam
Radical Islam
Militants
Arab occupation
Arab Muslims
Indoctrination
Arab hatred
Muslim hatred
'Palestinian' hatred
'Palestinian' Child abuse
Jewish refugees
Death cult
'Palestinian' human shields
'Palestinian' human bombs
Arab oil lobby
Arab oil mafia
Islamic Aparthied
Ethnic cleansing
Passover massacre
Muslim
Arabs
Arab atrocities
Damour massacre
Hebron massacre
Politically correct
Muhammad
"palestinian" propaganda
"Palestinians"
Netanya massacre
Hamas
Abu Sayaaf
Beheading
Honor killing
Jerusalem massacre
Passover massacre
Bus bombing
Islamists
Mufti
Koran
Quran
Radical Islam
Islam
Islamophobia
Beslan massacre
CAIR
Islamic phobia
Sharia
Fatwa
Mullah
Kafir
Infidels
Islamofascism
Islamic fascism
Whabbism
Whabbist
Wahabbi
Saudi Arabia
Islamofacism
"religion of peace"
Huzbullah
Arabism
Ahmadinejad
Human shields
]